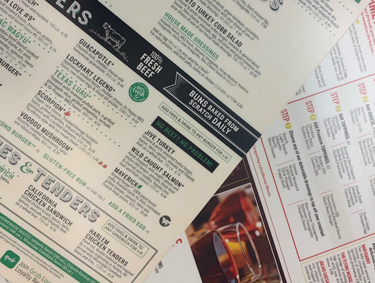 The Dish On Laminated Menus: Attractive, Durable & Cost-Effective
Throw on a coat! No, we're not talking about chilly temps. We're focusing on laminating restaurant menus for eye-catching and extended use. Lamination really pays off when you consider the cost of replacing your menus over time, so, let's see what's cooking when it comes to this cost-effective option...
Lamination definitely gives your restaurant or chain the most bang for your buck as well as a cleaner presentation. First, the look and feel of a laminated menu are perceived as high quality. And, great looking, well-designed menus add up to higher guest checks. Second, laminated menus are super easy to clean to re-use time and time again. And of course, this stronger option will outlast and outperform paper menus that stain, crumble, and tear over a relatively shortly period of time. Lastly, laminated menus including Microban® not only look fantastic but feature antimicrobial properties as well. What dining establishment can't benefit from that?
Laminated pages can also retain a longer life when used in coiled menus that enable establishments to add offerings or include daily, weekly or holiday specials and more. Two simple ways to make coiled menus more versatile include using pop-in pages (that easily snap into the coil binding) or hybrid sleeves that are comprised of a front and back laminated cover with clear plastic sleeves on the interior, allowing printed sheets to be inserted. These options offer superb flexibility throughout the year without having to recreate the entire menu.
Key Benefits of Lamination
More durable for frequent use, increasing the lifespan of your menus
Easy to keep clean and virtually tear-free
High quality look
Gloss coated option enhances visual appeal, making colors and images pop
Die cut laminated menus feature a full bleed with smooth, flush cut edges for superior looks and longer wear
Optional Microban® for antimicrobial protection* against stains and odors
Neat, clean menus are a reflection of your business, right up there with clean tables, utensils, and uniforms
Laminated Menu Options
Lamination can be used on a variety of menus including bi- fold, tri-fold, coiled, flat, and double-duty menu/placements. You can also utilize laminate table tents to include menus for daily, seasonal, brunch, or happy hour offerings. Lamination is also well-suited for employee handbooks, bar mixing guides, and recipe decks.
Creating the Right Look
While a laminated menu instills a look of quality, increasing the positive perception of your establishment, it must be paired with professional, well-thought out design. When designing a menu, top considerations include:
Choosing a typeface(s) that best matches the style of your establishment.
Typographical treatments can also have a psychological effect on how customers view a menu and make selections. A Cornell University study published in the International Journal of Hospitality Management suggests that diners are likely to spend more when menus don't use dollar signs.

[1]

Selecting a style of menu suited for your audience and amount of your offerings
Making sure your menu is well-organized so items and categories are easy to find
*More about Microban®
MenuWorks has partnered with Microban® to develop a revolutionary solution for restaurant menus. Menu Works integrates Microban® antimicrobial product protection into the surface of laminated menus to help resist the growth of bacteria that can cause stains and odors. On an unprotected surface, bacteria can double in number every 20 minutes while Microban® protection works continuously to keep menus cleaner, longer. MenuWorks is pleased to include Microban® antimicrobial protection at no additional charge.
If your restaurant is looking to for attractive, durable laminated menus, contact one of MenuWorks' experienced account managers for more ideas and to receive a sample pack of menus for reference and inspiration. MenuWorks also offers expert design services for all budgets, so be sure to ask for samples designed by our talented in-house team as well.
* Microban® is a registered trademark of Microban Products Company
Sources:
[1] Yang, S. S., Kimes, S. E., & Sessarego, M. M. (2009). $ or dollars: Effects of menu-price formats on restaurant checks [Electronic article]. Cornell Hospitality Report, 9(8), 6-11.