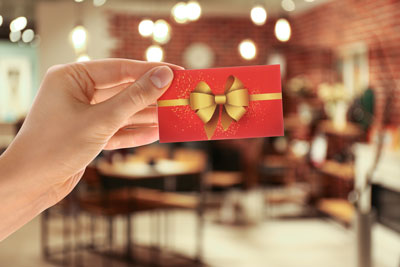 Leveraging Gift Cards to Increase Your Business
Gift cards are a valuable tool for restaurants of all types and sizes. They are the go-to gift item for patrons who recognize that gifting with a card is an easy, efficient way to please everyone on their gift list for a variety of holidays and special occasions. They are also a sign of loyalty when your customers choose to give your gift cards to family, friends, and co-workers and serve as a recommendation of your establishment when gifted to others.
In addition to helping to expand your business with new customers, gift cards provide restaurants with the highly valuable asset of cash up front. That's right, gift cards can help drive revenue NOW. In the current economic climate where restaurants are slowly regaining their footing after pandemic-related downslides, increasing revenue in the here and now is ever so important. Plus, whether or not a card is redeemed, you've already received the revenue. Additionally, when gift cards are redeemed, card holders typically spend more than the card's value*, bringing in greater returns as well as the potential of new repeat customers. (*In various surveys, sources cite 59% and even 80% of consumers spend more than the amount on the card.)
Successfully Market Gift Cards at Your Establishment
Offer & promote gift cards year-round. Gift giving takes place every day of the year so be sure to make cards readily available. Since gift cards are perfect for graduations, anniversaries, birthdays, employee incentive gifts, and more, take advantage of the many opportunities throughout the year. Continuously promote that cards are available by placing signage and table tents accordingly.
Special emphasis should always be placed on holidays, including Valentine's Day, Mother's Day, Father's Day, and Christmas – so it's important switch up the types of promotional materials you utilize to target gifting during special times of the year.
Double the opportunity. An offer such as "Purchase $50 worth of gift cards and get a $10 gift card free" is a smart way to capture two redemption opportunities. You not only bring in customers gifted the card, you also bring back (and thank) the patron who bought the $50 in cards -- and they will undoubtedly spend more than the $10 value on their bonus card.
Tie gift cards to fundraising for worthy causes. Consider running limited time promotions highlighting that you will donate 10% of proceeds (or any percentage you wish) from the sale of gift cards during a set period. This might include October for Breast Cancer Awareness Month, Movember for November (men's health awareness), raising funds for a local little league or high school team, or for your area's volunteer fire department.
If your restaurant has a loyalty program, include special offers for your best patrons. (I.e., for a limited time, loyalty program members can purchase $100 in gift cards for $75, or, offer those dining at your establishment during January – or any slower period – a $10 gift card as a thank you with their check of $50 or more.)
Gift Card Design Tips
Create gift cards with a generic design for year-round use as well as a special design(s) for the holiday season.
Offer different denominations – $10, $25, $50, $100 – based on the type of establishment. (Fast casual restaurant gift cards may entail smaller denominations while fine dining establishments may start with a $25 or $50 card offering.)
Gift cards are an extension of your brand (an advertisement in a wallet!) so the design should incorporate your identifiable colors, logo, and tagline. Include your address (and/or website, especially for chains with multiple locations) so card recipients can easily find you. Remember, great looking cards make great looking gifts!
Increase revenue now and make gift-giving easier for your customers. MenuWorks creates winning gift cards programs. To learn about how to effectively offer gift cards at your establishment to drive additional revenue, contact one of MenuWorks' experienced account managers to This email address is being protected from spambots. You need JavaScript enabled to view it. of gift cards for reference and inspiration along with table tanks (aka table tents) that help promote gift card purchases. For convenient one-stop shopping, MenuWorks offers expert design services; be sure to ask for samples designed by our talented in-house team as well.