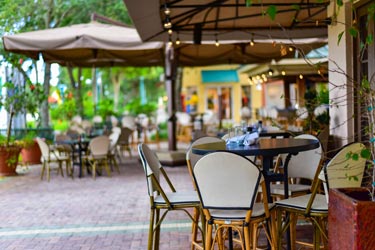 Outdoor Dining Tips to Maximize Capacity, Comfort & Confidence
Fall is in the air and that means that more people will be looking to enjoy their meals outdoors while taking in some fresh air. Now more than ever, outdoor dining is an important way to help keep business moving forward. It's essential to provide your patrons with a safe and pleasant atmosphere with measures in place that follow up-to-date Covid-19 guidelines for dining al fresco in your city or state.
Create a Safe, Comfortable Experience
We've all heard a ton about social distancing, and the truth is, the more you spread out your tables, the more comfortable your guests will feel dining at your establishment. Even now that outdoor masking rules have been modified or lifted in many states, because their meals entail spending an extended amount of time in one place, patrons are still taking notice -- and precautions.
Outdoor Dining Checklist for Success
Distance tables appropriately. Remember to take into consideration any traffic that passes the tables such as servers, bussers, and other guests.
Even with updated mask rules, continue to have your staff wear masks for enhanced measures.
Develop a plan and create a checklist that includes all the surfaces staff and guests come in contact with and be sure to inform and train your staff on the procedures for cleaning and sanitizing.
Have dedicated staff, furnished with proper personal protection equipment (PPE) on duty each shift to sanitize surfaces in your dining areas and restrooms. This should include cleaning and sanitizing partitions, tables, and chairs in between each seating.
Clean menus and table tents between each use; laminated menus can withstand all the necessary cleaning and sanitizing.
Where possible, incorporate partitions or plexiglass barriers for added separation.
Remind guests to wear their masks when leaving the table – to use restrooms, depart, etc.; have your staff pleasantly inform them and create and post signage to promote this.
Place hand sanitizer or antibacterial wipes at each table and at register stations so they are readily available for guests.
Where possible, provide customers with single-use items such as packets of sugar, salt, ketchup, butter, milk, and creamers to reduce spending valuable time cleaning communally used dispensers in between customers. Provide napkins with table settings and/or distributed by servers instead of napkin dispensers to avoid additional cleaning tasks.
For more casual restaurants, consider using biodegradable/disposable plates and utensils for one-time use and ease of turnaround.
Depending upon the regulations in your locality, you may be able to create a designated outdoor seating section for patrons who are fully vaccinated and another for those who are not.
Continuously monitor all state and local mandates and recommendations to update, adjust, or ease requirements, as needed.
MenuWorks is ready to assist as your business continues to gain momentum in the new normal, both indoors and out. Our vast array of waterproof and antimicrobial menus, inserts, menu covers, and table tents are not only appealing to the eye, but built for all the cleaning and disinfecting our world demands. If your restaurant or chain is in need of durable, easy-to-clean laminated menus -- or is updating prices and offerings to reflect current times or adding special takeout items, meal kits and more, -- contact one of MenuWorks' experienced account managers to request a sample pack of products in assorted styles and sizes for reference and inspiration. MenuWorks also offers expert design services for convenient one-stop shopping, so be sure to ask for samples designed by our talented in-house team as well.