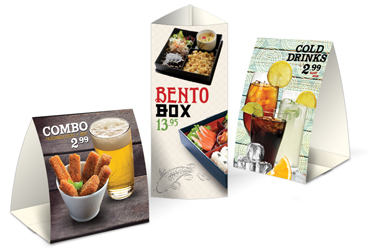 Table Tanks
MenuWorks' Table Tanks move on-table promotion to the next level. Our vertical display designs provide ample print territory and get attention using high-impact print quality and graphics. When a guest sits down, they often see the table promotions before even opening a menu. This provides an opportunity to influence customers and highlight specific selections.
The Value
Table Tanks provide a method to promote appetizers, desserts, specialty drinks or other menu items. They can also be used to educate the patron on charities your restaurant supports or upcoming events that might drive a return visit.

We offer a variety of formats to fit your specific needs. Our Table Tanks, like our menus, are printed on synthetic paper, then laminated to protect the image from damage due to handling. The lamination also makes it easy to quickly clean. Our matte finish, which contains an antimicrobial agent, can help reduce the spread of germs. An ideal solution for table marketing pieces that get handled constantly.
The REAL Value $$
Table Tank marketing can utilize menu optimization just like your regular menus. Our design team can work with you to determine your most profitable selling items and promote those items effectively. Menu optimization has been shown to increase sales and profits by promoting what you want to sell the most. Rotating the message of the Table Tank is a great tactic to keep customers coming back to see what's new. Just like direct mail, the use of bold graphics and smart design helps draw the patron's attention to the offering and gets them engaged. Creating multiple versions and rotating them out each month is another great opportunity to keep your customers returning. The interlocking system makes it easy to unlock for storage until the next time you want to use them.
Summary
Using Table Tanks can engage your patrons the moment they are seated and help influence their purchasing during their time at your restaurant or pub. High impact graphics combined with effective design can increase sales and profits. Changing the offer and graphics on a regular basis keeps patrons returning to your restaurant.