Making Mom and Dad Happy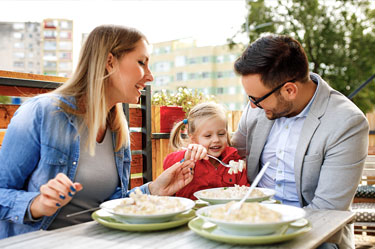 The economy is having a positive impact on dining out, according to industry reports. Parents with children are dining out more often which means restaurants are now challenged to attract that group to choose their restaurant. 50% of kids visiting a restaurant are making their own buying decisions. Some children as young as five years old are being taught to make a decision on their own. Parents also use the dining out experience to encourage kids to try new foods and experience different options. Gearing your restaurant towards children can increase revenues and return patrons.
What can you do?
Price continues to be a part of the decision process, however, when kids are involved, look for other ways to attract them. Reports show parents will favor restaurants that have kid friendly features, some may be related to entertainment. These may be placemats that feature coloring or puzzles. Menus also play an important role. As we mentioned, parents want kids to experiment with their food selection. Having a good selection on the kid's menu can help attract young families. It's also been shown that children like to mimic their parents, so another tactic could be having children's menu with smaller portions of the adult menu. Parents want to teach their children to eat healthy, so having calorie information and other health data on the menu can help parents teach their kids to make healthy selections.

Changing your on-table promotions for appetizers and desserts should also be considered. Items that cater to kids, or served in kid-sized portions, can keep families returning to your restaurant. And don't forget your carryout menus. Just like your regular menus, these should be updated with selections that reach out to kids and help promote your restaurant as their favorite choice. All menus, regardless of use, should be optimized to promote your highest profit food selections. This is typical with adult menus, however, often overlooked with children's and carryout menus.
Summary
Restaurants should consider updating their printed menus to offer more kid-friendly dining options. This should include dine-in and carryout menus, as well as table promotions. Adding entertainment options such as coloring placements or other games can influence return patrons. High resolution images combined with menu optimization can help drive purchasing decisions to your high-margin selections. On-table promotions can help drive selections. MenuWorks has just released a new table promotion tool called "Table Tanks". Table Tanks combine high quality printing and graphics with durable lamination for protection.
About MenuWorks®
MenuWorks® was founded in 1994 with the mission of providing independent restaurant owners with affordably priced menus that were creative in design and unique in construction. Today, we offer a full turn-key experience that is unique to the market that can assist with all your menu & restaurant marketing needs. Our customer base now includes independent restaurant operators, multi-unit & franchise restaurant groups, hotel properties, and ad agencies located in the US, Canada, Mexico, Latin America, Central America, South America, and the Caribbean. From building and developing your brand, to maximizing menu profits, our team of consultants is here to help. Call us at 864-877-7007 today!